We started off the day with a trip to the park.
We walked the tight rope in honor of this weeks Modern Family episode...
We went on the swings...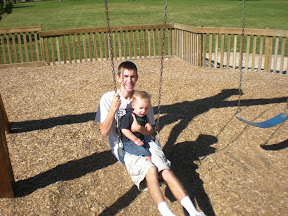 We drove a train...
Then decided to ride a real train...
Then they flew a helicopter...
Then rode a horse...
Played with water...
Balls...
And dressed up as Shrek (if all goes according to plan he should be a homemade version of Shrek for Halloween. So please don't compare this costume to however his homemade one turns out)...
We met Thomas for dinner in Salt Lake and all rode the train home together. We are so sad Uncle Thrine is leaving tomorrow! We've had a lot of fun with him!